Brook Holub, M.Ed, LPC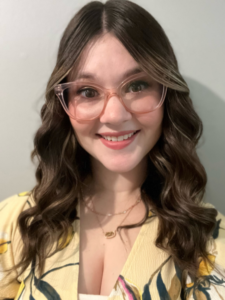 Helping, caring, and providing support has always been an important part of Brooks life from a young age. Brook has seen firsthand how impactful generational cycles can be both a positive and negative light. Through her own experiences with generational cycles and healing, that led Brook to help other struggling with their stories and reclaim control within their stories and narratives. Through her previous work Brook has found the importance of building a strong relationship with her clients. Brook understands the amount of work and effort that is not always easy but necessary to overcome your past, to persevere in life, define yourself as your own individual.
As a person-centered therapist, Brook believes that one of the most important pieces of the therapeutic relationship is meeting clients where they are at, so they can have greater control of their sessions and in their life. Brook like to remain influential yet decentered. This means that she is curious and active, not knowing -the client is the master in their unique experience. Brook is passionate about helping clients learn skill development, coping skills, self-care, connecting to the present moment, and creating balance in all aspects of their life. As such, Brook utilizes an integrated approach to counseling tailoring the techniques and interventions to the clients' individual needs.
A common theme Brook has seen in her work is that sometimes, in life, we are used to being invalidated by the people closest to us which can cause us to question what we value, feel, think, and believe in.  Therefore, an important piece of her work with client is helping them to learn how to identify and self-validate your feelings, thoughts, values, and beliefs. One of the keyways Brook helps clients learn to self -validate is through learning how to show yourself compassion, living by your values, and by building a therapeutic relationship where you are not only seen and heard, but also where you are unconditionally accepted and supported, you are provided an environment for healing.
Brook is passionate about working with those struggling in their interpersonal relationships, trauma, as well as those suffering from borderline personality disorder.
EDUCATION I Master of Education in Clinical Mental Health Counseling, Cleveland State University