Sarah K. Adams, MA, LPCC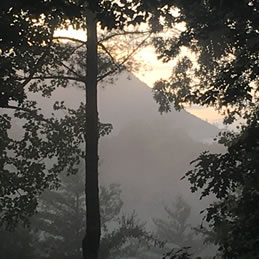 I collaborate with clients using relational and mindfulness-based therapy to create a safe environment for the client to reconnect with her or his innate wholeness.  In time, this may lead to increased vitality, creativity, connection, and joy.
You as the client can expect to be listened to with respect and care as you talk about feelings and experiences and identify and pursue your short and long-term goals.
I support clients to identify and integrate ongoing self-care practices into daily life as a way of supporting the therapeutic journey. These might include animal friendships, expressive arts, journaling, yoga and meditation, religious or spiritual practices, gardening or social and community connection, or intentional rest, among other practices.
I hold in the highest regard respect for diversity, commitment to inclusion, and a strong belief in a client's autonomy and innate wisdom.
In addition to practicing as a Licensed Professional Clinical Counselor, I practice as a Level I and Level II Teacher of iRest Meditation and am in ongoing training with the Integrative Restoration Institute toward becoming a Certified Teacher of iRest Meditation.
Populations
Individuals ages 18 and up