Fauzia Javaheri, MSSA, LISW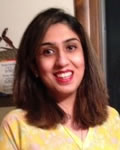 I will provide you with a kind, honest and direct approach while I teach you specific strategies that will help put your relationship on a positive track. I am a direct, insightful, empathetic, solution-focused and result oriented therapist. I will give you specific action steps to help you improve your relationship. I am passionate about helping others live up to their fullest potential and reach the goals they set for themselves.
I have always been committed to helping my clients; especially couples with relationship concerns, and adults and children with different behavioral problems. I believe in a client centered approach therefore I will lead you in a direction to feel empowered and be able to recognize your strengths and weaknesses and improve.
I completed my medical studies with honors in my native country, after which I worked there as a physician. When I moved to the USA I continued my education and completed my masters in Social Work.In addition to English I speak Urdu, Hindi and Farsi fluently and love working with diverse clientele.
Populations
Children (5+), Adolescents, Adults, Seniors
Individuals, Couples, Families